About Us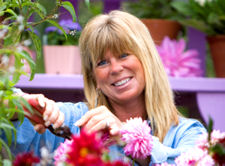 Trish Kydd blends her avid love of garden design with the dramatic impact of stage design to orchestrate extraordinary results for her landscape design clients. Using an artist's instinctive eye for color to incorporate decorative merchandise into her paradise garden retreats and hidden secret spots, her extraordinary theme gardens have attracted visitors by the busloads.
Trish has studied privately with England's Queen Mother's landscape designer and author, Rosemary Verey, and with Kent Gordon England, a famous San Francisco Landscape Architect. She continually takes classes in landscape and horticulture design on an ongoing basis, calling herself, "obnoxiously obsessed" with gardens.
The coordinator for three years for the San Diego Home and Gardenmasters Garden shows in Del Mar, CA, Trish has continually won awards for her themed designs such as: Most Dramatic: "Wings of Spring", Most Creative: "A Garden of Childhood Dreams", and Best of Show: "Everything's Just Ducky".
Other themed garden designs have included "Never Step Inside a Fairy Ring", "Something to Crow About", and "Much Ado About Bamboo".
Trish was the owner and manager of Anderson's LaCosta nursery in North San Diego County for five years and has also worked with Pat Hammer of Sarnia Rose Topiary. She holds a BFA in theater and has her California landscape contractor's license.
The work Trish is most proud of includes a garden she created for a young boy with Muscular Dsytrophy at the Anaheim Home and Garden show, and her work with the garden tours for the Community Resource Center in Encinitas, CA.
Trish's work has been featured in Country Gardens and Garden Ideas magazines, both from Better Homes and gardens, San Diego magazine, Carlsbad magazine, Encinitas Magazine, the Coast News, the Rancho Santa Fe News, and Johnny magazine.
Professional associations include the California Landscape Contractors Association and Soroptomists. California License # C27 869193.